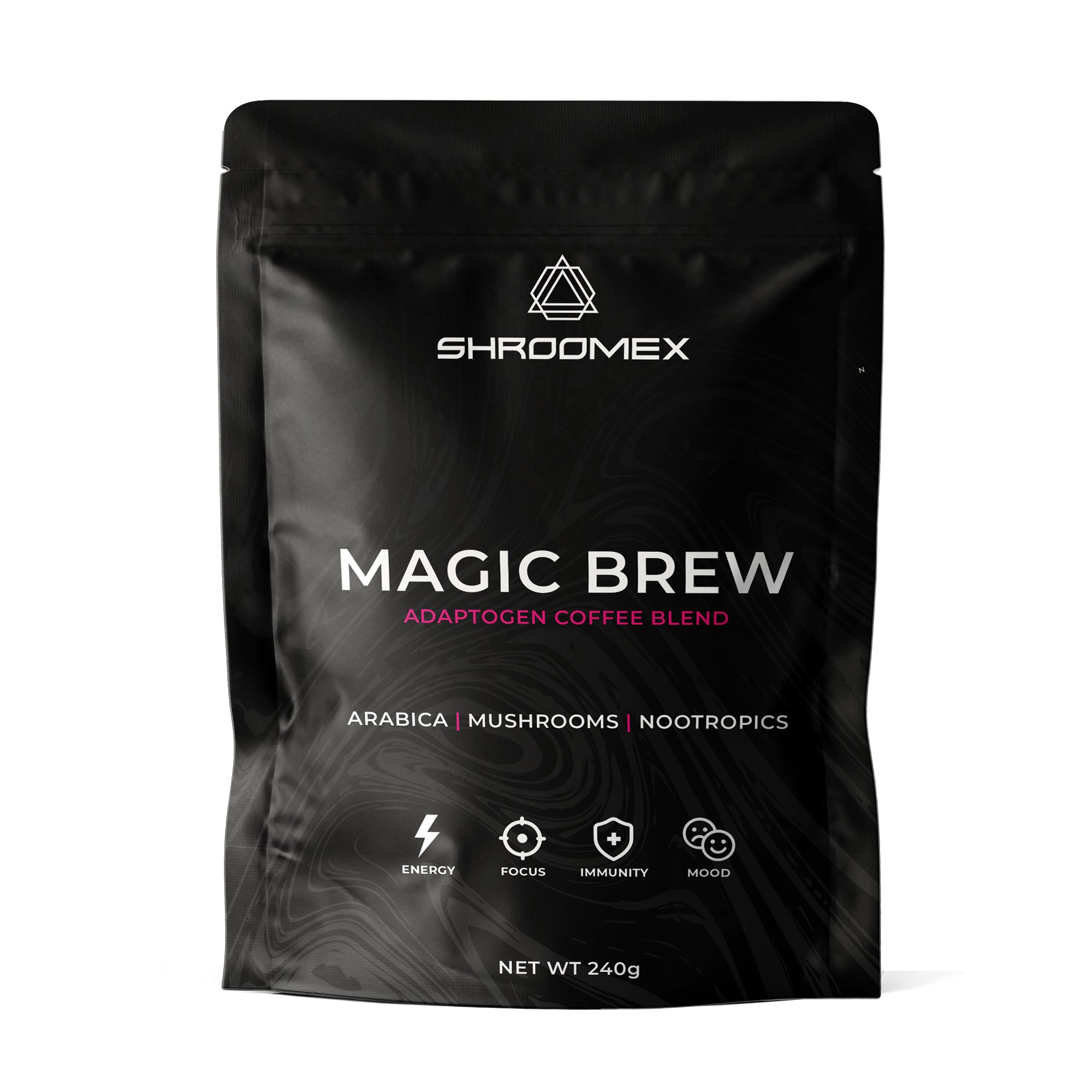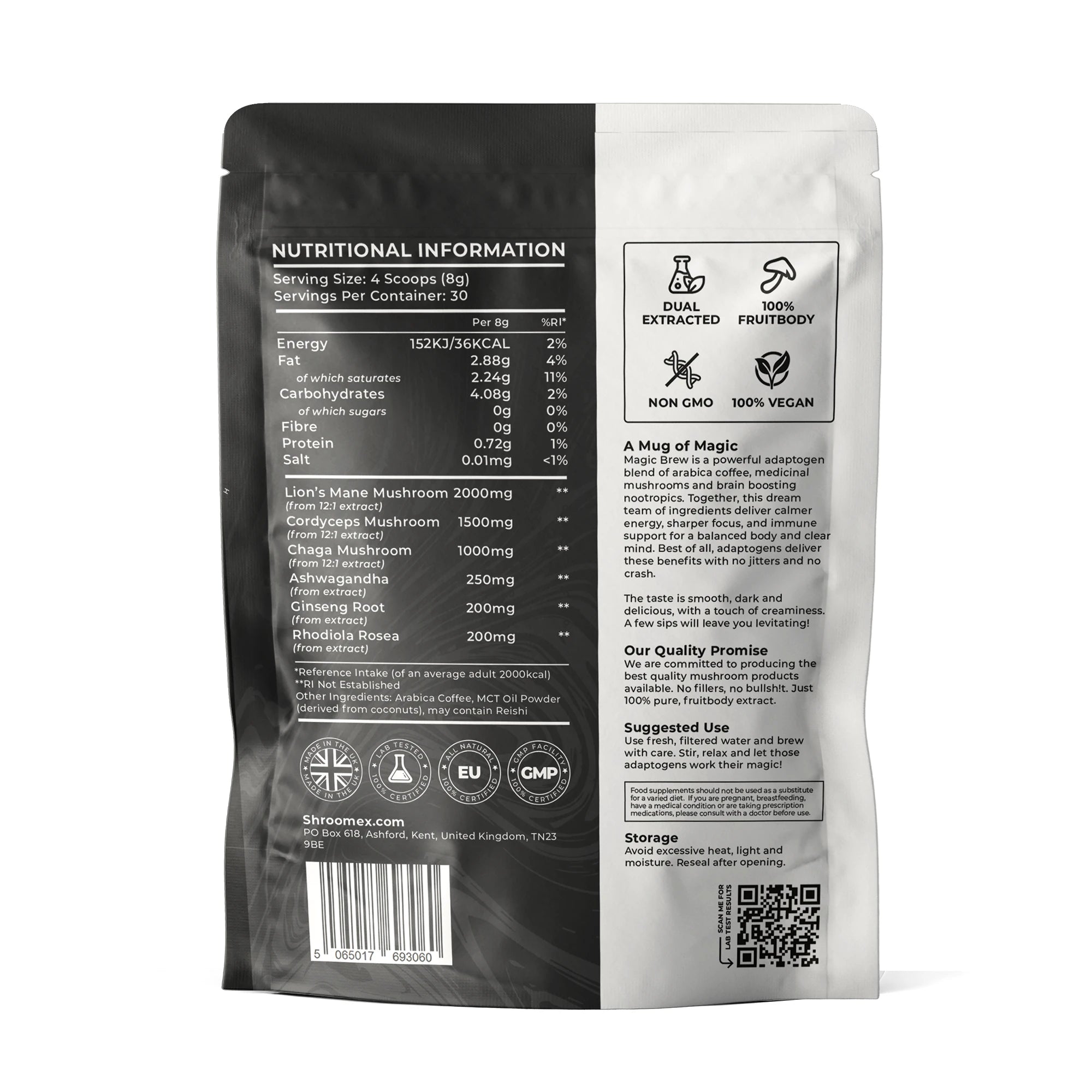 Focus

Energy

Mood
Magic Brew
30 Servings Per Bag - £1.33 Per Serving
Magic Brew is a supercharged coffee blend unlike any other. Columbian Arabica combined with 5 of the most potent and effective mushroom and adaptogen ingredients out there. Designed to support focus, energy, and productivity.
☕ Arabica, Mushroom & Nootropic Blend 
⚗️ Dual Extracted 
🌿 Potent & Pure 
🌱 USDA & EU Certified Organic
We are 3rd party lab tested by Eurofins Scientific, the gold standard of lab testing verification.
📦 FREE express shipping on UK orders

↩️ Stress free returns

💯 100% satisfaction guarantee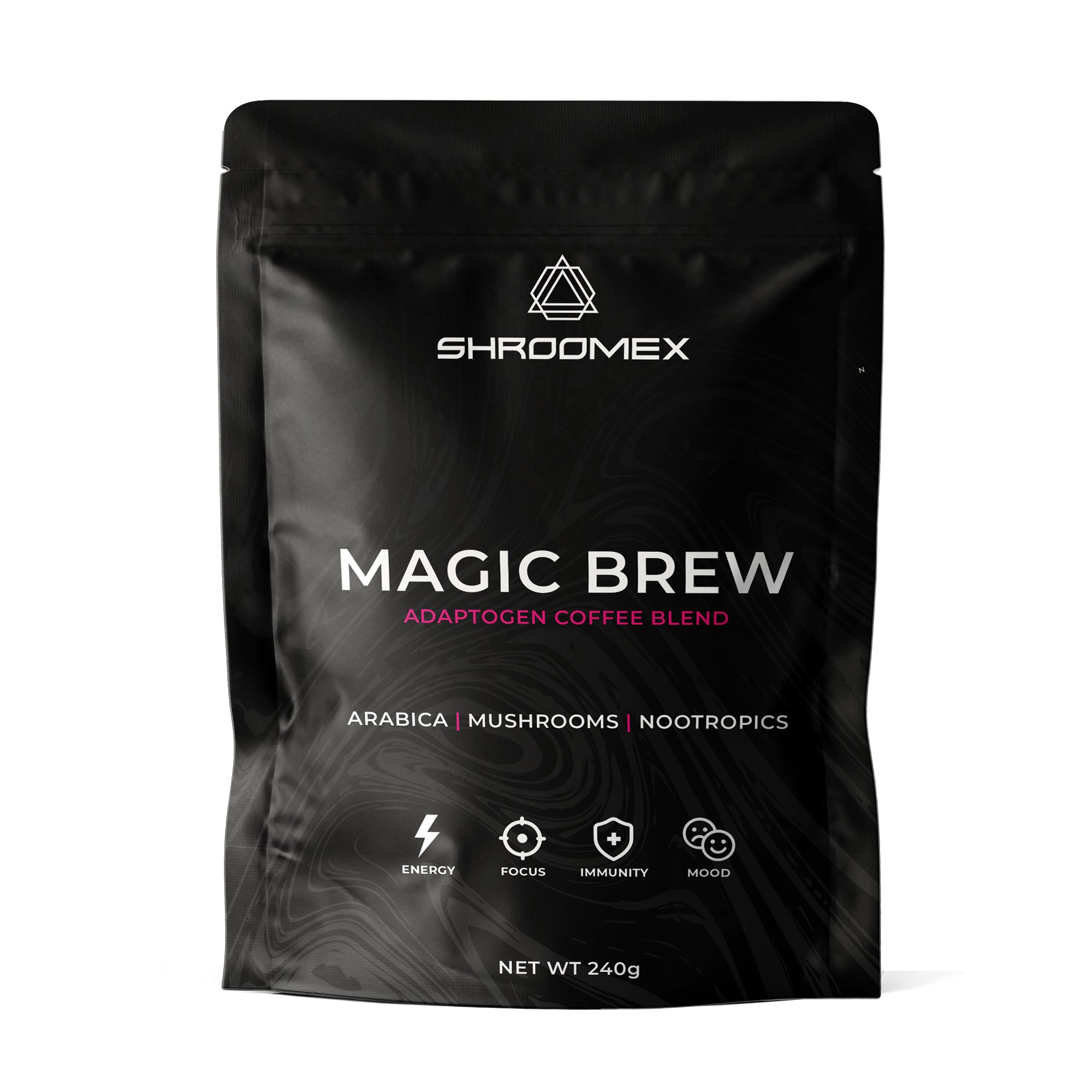 MAGIC IN A MUG
In today's demanding, high stress and distraction filled world, staying focused is a real challenge. No wonder then that 70% of people say they struggle to concentrate or think clearly! Everyone's go to fix, coffee, gives a temporary boost but often leads to over-stimulation and the inevitable afternoon crash.
Enter Magic Brew, your antidote to the modern day hustle. A powerful formulation of arabica coffee blended with clinically studied medicinal mushrooms and brain boosting nootropics. Together, this dream team of ingredients delivers more energy and a sharper focus, as well as supporting immune and gut health. A few sips will leave you levitating without the usual jitters and crash, so you can enjoy balanced body and clear mind.
Magic Brew is designed to seamlessly integrate into your daily routine, upgrading your regular cup of coffee. Gone are the days of consuming multiple capsules or pills to kickstart your day, Magic Brew offers all the benefits in a single cup. It's the simplest, easiest, and most enjoyable way to enhance your productivity, focus and wellbeing. Best of all, you get all of that natural goodness without a hint of mushroom taste. The taste is smooth, dark, delicious with a touch of creaminess.
It's more than coffee; it's a lifestyle upgrade. Embrace the magic of a clearer, brighter day with a mug of brew - because your mind and body deserves more than just caffeine.
THE BENEFITS
✓ Enhanced Focus
✓ Boosted Mood
✓ Increased Energy
✓ Strengthened Immunity
✓ Improved Sleep
✓ Restored Gut Health
SCIENCE BACKED INGREDIENTS
We use only nature's best & most powerful ingredients.
WARNING: Magic Brew is extremely potent! Even a regular dose will knock your socks off. If it's your first time, we don't recommend exceeding the recommended dose. Unless you plan on taking over the world, in that case it might be ok.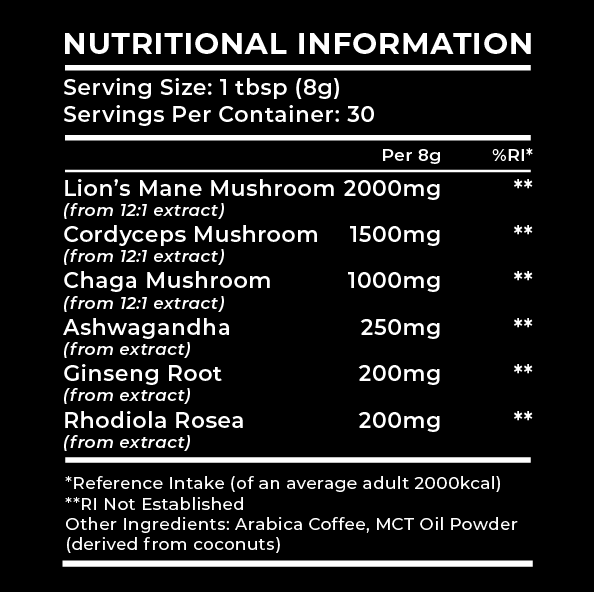 TRANSPARENT LABELLING
We are completely transparent about our labelling. We show you EXACTLY what's inside all of our products, so you can be confident you are getting ingredients that will actually work wonders for your health.
We use dosages that are up to 5X times higher than our competitors and back up all of our decisions with hundreds of peer reviewed scientific papers. 
We are 100% USDA certified organic, Vegan, Gluten Free, KOF-Kosher Certified, NSF Certified GMP Compliant.
No nasty bulkers or fillers. Natural, clean and potent ingredients that are safe, effective and good for your body and mind.
Absolutely fabulous
Absolutely fabulous. Love their magic brew coffee, best taste ever. Also have turkey tail capsules which are brilliant too. Highly recommend. My son says they are the best company out there and he knows his stuff.
Magic Brew
After using the Magic Brew for a couple of months now, I feel more alert and energised. Seems to reduce some brain fog.
Prompt delivery and really helpful
Prompt delivery and really helpful when I had questions. Love the brew, I find it gives me the clarity and energy of a caffeine hit but without the crash. Will definitely keep drinking!

WHOLE FRUITING BODY
We only use 100% whole fruiting bodies to make our extracts. No mycelium here!
ORGANIC & NON-GMO
We only use pure, natural ingredients. Exactly as nature intended

DUAL EXTRACTED
We dual extract the mushroom's powerful cognitive-enhancing compounds for maximum benefit

THIRD PARTY TESTED
All of our mushroom extracts are third-party lab tested for verifiable potency & purity - beta-glucans, heavy metals, allergens and mycotoxins

NO FILLERS, MYCELIUM OR GRAIN
Absolutely no fillers or mycelium. Just 100% pure organic extract for maximum potency

ETHICALLY & SUSTAINABLY SOURCED
All of our mushroom extracts are ethically sourced and sustainably harvested
A CUT ABOVE THE REST
We source our potent extracts from 100% fruiting body mushrooms, no mycelium, grain or any other fillers that are commonly used. We only use natural ingredients in our products, no artificial or GMO crap.

Our products are proudly produced in pharmaceutical grade UK GMP facilities which have the highest manufacturing and safety standards in the world. To ensure safety and efficacy, all ingredients are 3rd party lab tested with Eurofins Scientific for quality, safety & potency. We use the most potent mushrooms in the world, with 3rd party lab testing to prove it.
SHROOMEX
Dual Extracted
100% Fruiting Body
Highly Bioavailable
High Beta Glucan
Third Party Lab Tested
Made in the UK
OTHER BRANDS
Non Extracted
Mostly Mycelium or Grain
Low Bioavailability
Low Beta Glucan
No Lab Testing
Non GMP Compliant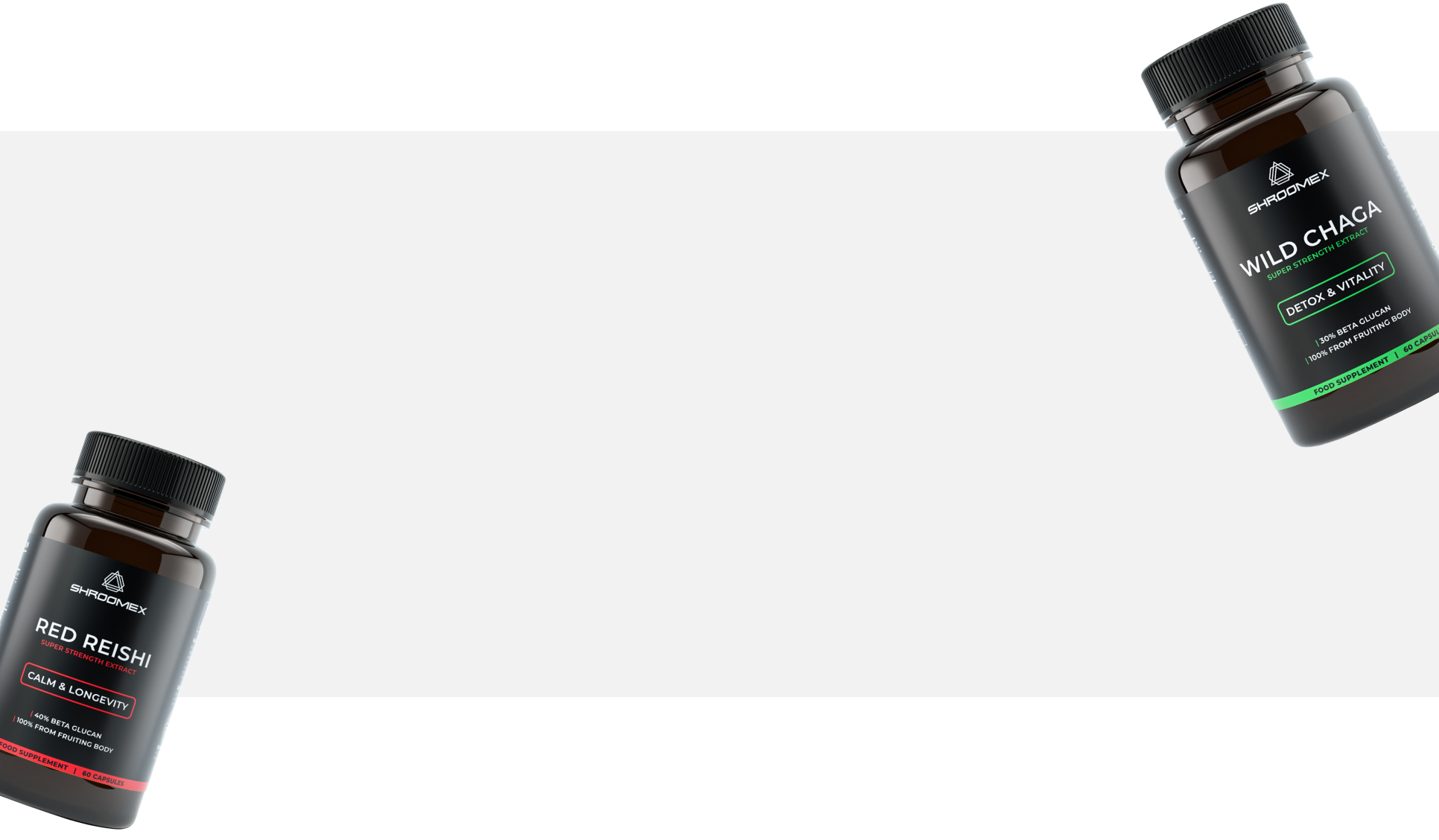 30-DAY STRESS FREE
100% MONEY BACK GUARANTEE
We think you'll love our mushrooms – so many people do! But if you find something from us you don't love. We won't judge!
We are confident in our quality, so much so that if you're dissatisfied with anything, we will give you 100% of your money back. All you have to do is ask nicely!
Frequently Asked Questions
DO YOU TEST FOR HEAVY METALS?

We take the testing of our mushrooms for heavy metals extremely seriously. Everything is rigorously tested by the 3rd party test lab Eurofins, which is the top testing lab when it comes to nutritional and supplement testing.
IS 100% MUSHROOM FRUITING BODY IN YOUR EXTRACTS?

Our mushroom extracts only use the best quality whole mushroom fruiting body. Which is far superior to mycelium extracts, but also more expensive. However, we are not willing to make this tradeoff. You will only get the best quality extracts possible from Shroomex.
HOW ARE YOUR MUSHROOMS GROWN?

As mushroom growers ourselves, we know that not all mushrooms are grown equally. This is why we proudly partnered with the best mushroom farms we could find, from all around the globe.

Forming personal relationships with these native mushroom farmers. Getting a deep understanding of their mushroom growing methods and techniques, seeing for ourselves that the correct growing standards and procedures are followed.

All our mushrooms are grown organically with USDA and EU Organic Certifications, and we only select fruiting bodies to produce our extracts. We are not willing to cut corners in order to save on costs.
DOES YOUR 3RD PARTY LAB TEST FOR OTHER THINGS?

Shroomex conducts the most comprehensive 3rd party testing of any company in the world, testing stringently everything to ensure we have the cleanest mushroom and most potent extracts that are commercially available.

We are verified by Eurofins to have the highest amounts of active compounds found in mushrooms. You can see lab test results of our record breaking mushrooms here
WHERE ARE SHROOMEX PRODUCTS MANUFACTURED?

All Shroomex products are made in the UK at Certified GMP (Good Manufacturing Practices) facilities.
ARE YOUR MUSHROOMS SUPERIOR TO OTHER BRANDS?

It's a bold claim to make. But the reality is no other companies have the 3rd party lab testing Eurofins analysis results that Shroomex has. The results speak for themselves, and other companies don't even come close. Shroomex mushrooms are the most potent and pure on the market.
This product has no reviews yet.